ClothesCarouselTM
Automatic hanging clothes system with revolving closet rods.
Operates similar to a ferris wheel or a vertical carousel except that instead of shelves that rotate, the clothes rails rotate while carrying hanging clothes.
4 to 6 poles units available
Can quadruple your hanging storage.
 Brings hanging clothes down to a reachable level and brings clothes from the back of the closet to the front.
Great for moving "out of season" clothes to the back of the closet. You can have a season for each clothes rail!
There are many companies that offer automatic clothes conveyors available for sale that bring clothes around in a circle horizontally. Only StorageMotion has successfully built a vertical carousel for hanging clothes, enabling the homeowner to access storage as high as eleven feet or more, with 4 clothes rails holding up to 40 pounds of clothes.
Download Specs and Drawings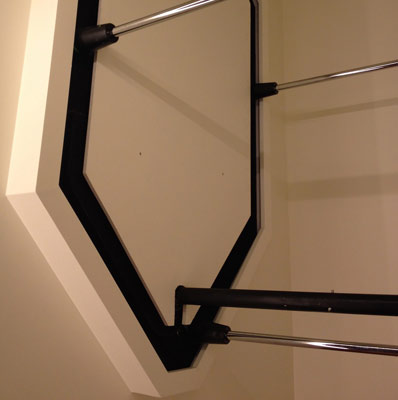 ClothesCarouselTM – Revolving Closet Rods
Watch the ClothesCarouselTM In Action!
"The customer LOVES the products for their AUTOMATED CLOSET! (Custom Folded ClothesCarousel®, ShoeSelect®, Automated WardrobeLift®)."
Josh Klein, Closets Specialists, Savannah GA
We can customize any unit to your specifications!
Sizes Available
Depth Required – 5 1/2 feet
Width Required – 3 feet to 5 feet
Height Required – 10 1/2 to 11 for 4 pole, 15 to 16 feet for 6 pole
Carousels are also available for FOLDED CLOTHES, shelves are 11" deep and move to the perfect level. Maximize storage by utilizing all space, even past the closed cabinet doors.
ClothesCarousel®
August 25, 2015