ShoeSelect™ – Automated Shoe Storage
An automated shoe storage solution with motorized shoe shelves that rotate down to you and increase your overall storage.
Automatic revolving shelves that are motor driven.
Movable shoe shelves that rotate down to you.
Double your shoe storage with one shoe rack behind the other.
Finally you can have usable storage at the top of your closet.
It is a shoe carousel that acts like a shoe rotisserie!
Don't be frustrated by having to store your shoes on a low shelf where you can't see them or on high shelves where you can't reach them. The ShoeSelect®  is motor driven and rotates and revolves all shelves to a reachable and viewable level; 12 foot ceilings are not a problem with the ShoeSelect®.
Regular stationary storage for shoes is a less than ideal storage solution because usually there are only two or three shelves that the average person can really get to easily. The rest of the shelves are either hard to see into or they are difficult to reach or both.
With the ShoeSelect®, these problems are solved because the shelves come down to you OR up to you automatically.  In addition to these benefits, automated shoe storage gives you double the storage capacity of stationary shelves.
The ShoeSelect® is a vertical carousel or conveyor  that has 2 columns of shoe shelves, one behind the other, which means it really is possible to double your storage space. In addition all the shelves  rotate to you when needed with the press of a button.
Download Specs and Drawings

ShoeSelect®Automated Shoe Carousel
Watch the ShoeSelect® In Action!
The ShoeSelect® is an electric, motor-driven, vertical carousel. Units are available so that they can be installed with the lowest shelf at a comfortable reachable level. We also offer floor to ceiling models thus allowing for MAXIMUM use of space. ShoeSelect® is a great way to take advantage of unused storage space in the high ceilings of the bedroom closet.
"I purchased two ShoeSelect® units last year and it worked out very well.  I am buying 2 more now including one for my Showroom!"
George C., Christopoulos Designs
We can customize any unit to your specifications!
Features Available
Arrives fully assembled as a cabinet "insert".
Patent pending guide system keeps the shoe shelves level as they move.
Suspended floating shelves are quiet and safe as they travel.
Shoes are tilted within the shelves for easier visibility and greater display.
Baltic birch shelves with a clear gloss polyurethane finish.
Custom finishes also available including cloth covered shelves (suede or velvet).
Customized shoe storage shelves available including shelves for Men's shoes.
Other customizations for purses, folded clothes, hats etc. are all possible!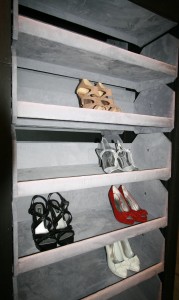 Carousel units are available that are half the ceiling height or go completely from floor to ceiling. With a floor to ceiling unit you can even place stationary storage in front of the unit up to the access point to gain even more storage. Three columns of shoes available that TRIPLES your storage.
The ShoeSelect® is available as a closet or cabinet "insert". It comes fully assembled with natural Baltic birch shelves with a clear polyurethane finish.  The enclosure is painted black which is then slid into an existing closet system and requires just a few screws to hold the unit in place. The unit must be fully supported at the bottom and cannot be just hung on the wall. It must have trim or a face frame added that matches the rest of the closet to look it best.
The ShoeSelect® can also be installed in a modular side by side fashion in order to store several hundred pairs  of shoes. Ask about our suede or velvet covered shelves for an extremely high end look! ShoeSelect® can be customized for Men's shoes. The shelves are custom designed specifically for a certain size shoe.
ShoeSelect™
August 17, 2015